The food huts are within close proximity to our other catering outlets the Beach retreat café, fish and chips and our ice cream kiosk.   These huts are new to 2016 but we think they will be a BIG hit!  Perfect if you would just like a snack between playing rounds of golf. 
Food Court
So much to choose from…
So many goodies…we have a hut that serves gourmet burgers with the concept of 'build your own burger'. So you have a 6oz steak burger in a bun with lettuce and sauce then just keep adding until you have your ideal burger. You can even add pulled pork! We have jacket potatoes too with a range of fillings to add. Or you can have a slice of pizza, margherita or pepperoni? Yummy!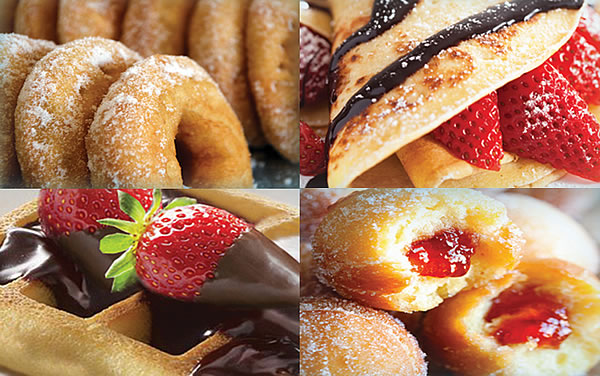 If it is not savoury you fancy, how about crepes or waffles drizzled in maple syrup with cream. Sticking with 'sweet' we have freshly made ringed donuts or filled donuts with amazing fillings custard, jam, Nutella…Are you tempted yet?